General Dentistry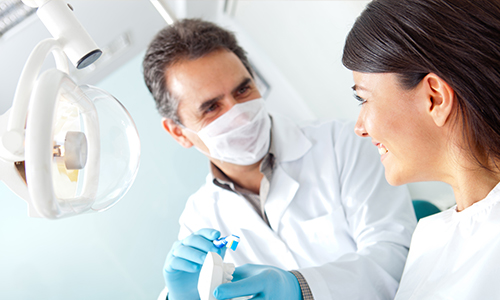 Dental Exam
The secret to a bright, healthy smile is actually no secret at all: brush, floss and get a professional dental exam at least once every six months. Professional dental exams are all about prevention – preventing existing problems from getting worse and preventing dental problems from developing in the future. Regular dental exams make it possible to identify and treat a problem in its earliest stage – which is not only good for your oral health but also good for your budget!
There's nothing to fear with a dental exam. Your teeth will be visually examined for signs of plaque, tartar and tooth decay. Your gums will also be examined for puffiness or discoloration, which are signs of gum disease. A full set of dental X-rays may also be taken during your dental exam, to enable your dentist to see below the surfaces of your teeth. Dental exams typically end with a dental cleaning, to remove surface stains and buildup.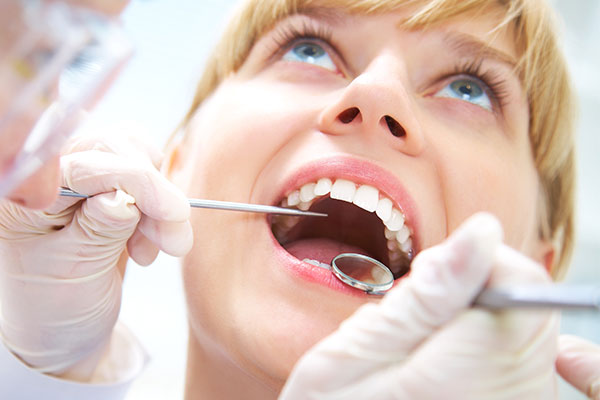 Digital Dental X-Ray
Dental X-rays have come a long way. Today's dental X-rays are safer, faster, more comfortable and more informative than the X-rays of years past. Digital X-rays, one of the latest and most advanced dental technologies, produce high-quality images of your teeth that can be viewed instantly by you and your dentist. Digital X-rays reduce radiation by up to 90% and provide exceptional diagnostic information to ensure that potential problems are caught in their earliest stages. Intraoral photography is another tool used with digital dental X-rays. With intraoral photography, problems such as leaking amalgams, fractures and discolorations in the teeth are captured through clear and sharp photographic images.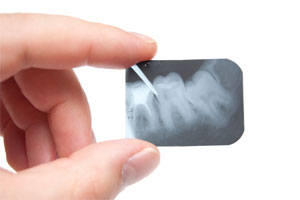 Teeth Cleaning
No matter how often you brush and floss, plaque and tartar deposits calcify and build up on your teeth. A professional teeth cleaning is the single most effective way to remove these deposits and prevent them from causing more serious problems in the future. A traditional teeth cleaning involves manually removing these deposits with special dental instruments.
A deep cleaning may be recommended if excessive plaque and tartar deposits have developed below the gum line. Deep cleanings, also known as Scaling and Root Planing, involve a two-part process: first, the stubborn deposits are removed, and then the root surfaces are smoothened. A deep cleaning helps prevent periodontal disease and restores gum tissues to a healthy state.
Pediatric Teeth Cleaning
Catering to the dental needs of kids requires a special touch. This involves knowledge about children's behavior, as well as their growth and development. Our entire staff knows how to make kids feel comfortable and relaxed. Children as young as 2 years old are encouraged to begin coming into our office.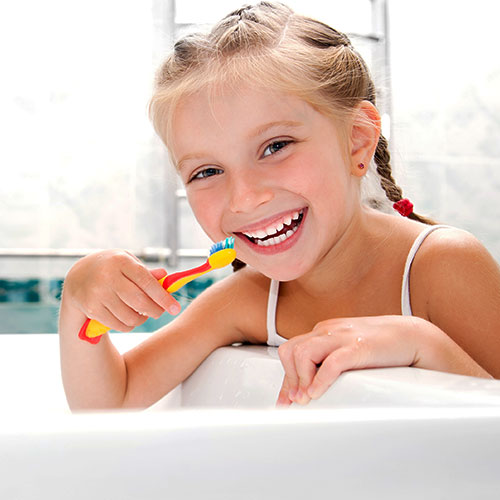 Sealants
Though brushing and flossing help clear away food particles and plaque from the surfaces of your teeth, toothbrush bristles cannot always reach all the food matter that finds its way into the grooves and uneven surfaces on the tops (occlusal surfaces) of the teeth. Sealants can be applied as a preventive measure to smooth over rough or irregular areas to keep plaque from collecting, and cavities from forming. Sealants are typically made of a plastic resin which safely and quickly adheres to the teeth and, with proper care, can last for many years.
Flouride Treatments
Fluoride is a safe compound found throughout nature-from the water we drink and air we breathe, to many kinds of foods. 
For decades, fluoride has been held in high regard by the dental community as an important mineral that is absorbed into and strengthens tooth enamel, thereby helping to prevent decay of tooth structures 
processed in your body called "remineralization"
.  
In nearly every U.S. community, public drinking supplies are supplemented with sodium fluoride because the practice is acknowledged as safe and effective in fighting cavities.
Oral Cancer Screening
Oral cancer affects nearly 35,000 Americans every year. The keys to surviving oral cancer are early detection and early treatment. This starts with a regular oral cancer screening – at least once every six months. An oral cancer screening takes just minutes, is pain-free and can be performed during regular dental exams. If you are male, a regular oral cancer screening is especially critical: Oral cancer is more than twice as common in men as it is in women. Other people at high risk of oral cancer include people over the age of 60, tobacco smokers and heavy drinkers.
Composite Fillings
If your silver fillings make you feel self conscious when you smile, or it's simply time to replace them, consider composite fillings. Composite fillings are just as durable as they are attractive! Made of composite resin, tooth colored fillings match the natural color of your teeth and are an excellent option for small to mid-sized cavities. Composite fillings are strong, stain-resistant and require less removal of your tooth structure than amalgam fillings.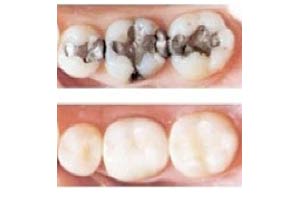 Dental Crowns
A dental crown may not make you feel like royalty, but it is one of the premiere treatments for teeth with extensive decay or damage. Dental crowns can also be used to hold a dental bridge in place, cover misshapen or severely discolored teeth, or cover a tooth after a root canal procedure. Made of either porcelain-fused-to-metal, ceramic or gold, dental crowns are placed during a multi-step process and sometimes require more than one dental visit. The first step is a dental impression. A temporary crown is then placed to protect the tooth while the impression is sent to an offsite laboratory to create the final restoration. In some cases, same-day crowns are possible, so be sure to inquire. With good oral hygiene and minimal wear and tear, your beautiful new dental crowns can last up to 15 years.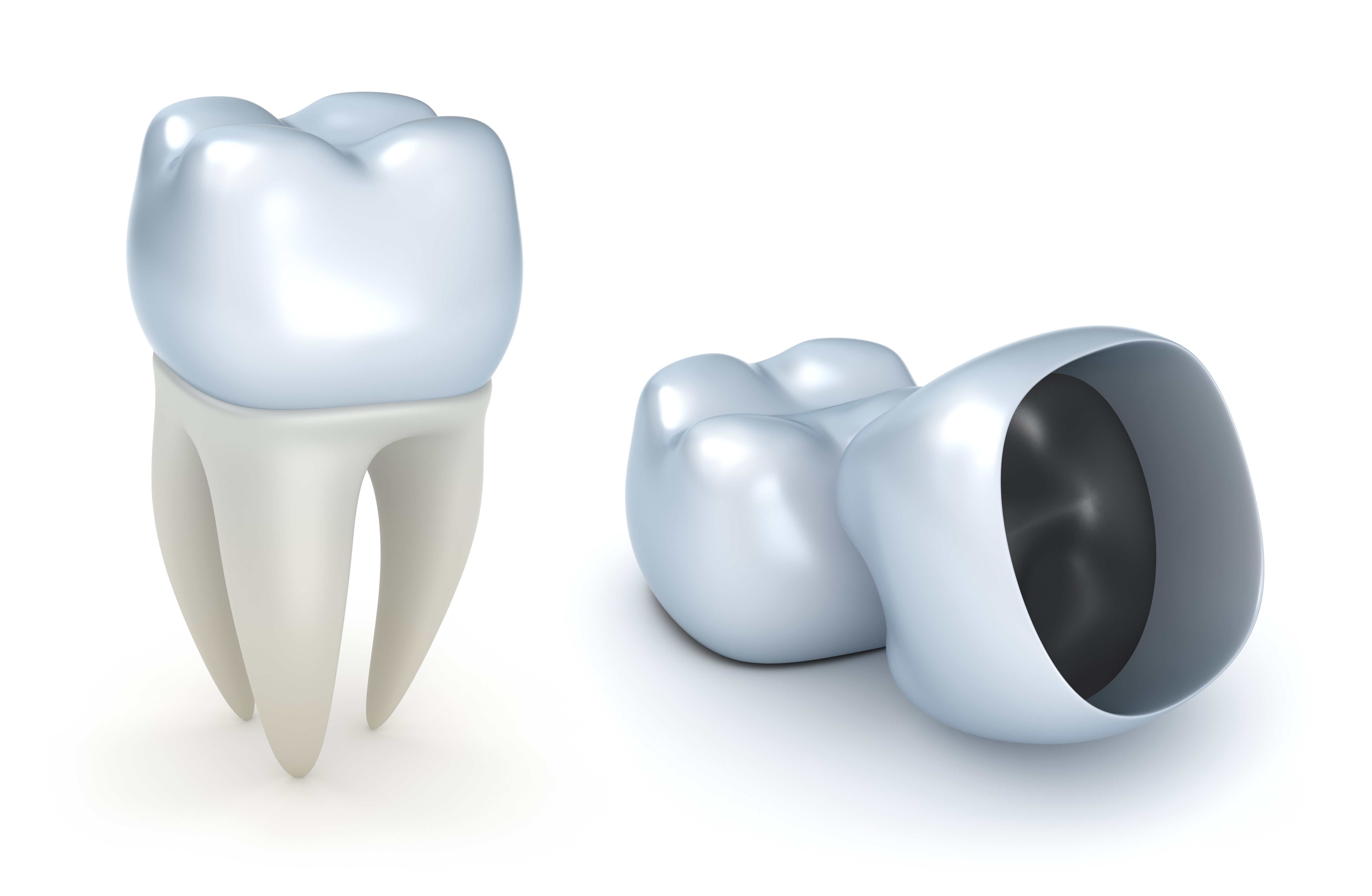 Porcelain Dental Crowns
Although dental crowns can be made of a variety of materials, including stainless steel, gold and silver, nothing looks better than a porcelain dental crown. Porcelain dental crowns match the natural color of your teeth and are virtually undetectable by the naked eye. And because they're metal-free, porcelain dental crowns are an excellent option for patients with metal allergies. Best of all, porcelain crowns don't just look beautiful – they're long-lasting, too!
Dental Bridges
Dental bridges have been used for centuries to replace missing teeth. Today, dental bridges are still considered one of the most durable, conservative and cost-effective options for bridging the gap between a missing tooth and surrounding teeth. Comprised of two anchoring teeth and a replacement tooth, dental bridges help prevent surrounding teeth from drifting out of position, improve chewing and speaking, and help keep your natural face shape intact.
Dental bridges typically take 2-3 weeks to complete and are less invasive than other options, such as dental implants. With good oral hygiene and regular dental visits, dental bridges can last up to 30 years.
Dentures
Using dentures to replace missing teeth is not only great for your oral health; it's a great way to look and feel younger! Today, there are a variety of natural-looking and comfortable dentures for patients who need to replace missing teeth. Made of a gum-colored plastic resin or acrylic base and either resin or porcelain replacement teeth, dentures are custom designed to fit your mouth. If you have several teeth or all teeth missing on the upper or lower jaw, full dentures may be your best option. Partial dentures, which can be either fixed or removable, are great for patients who have several missing teeth scattered along the upper or lower jaw.
Just as with your natural teeth, dentures require daily maintenance. With regular wear and tear, your dentures can last 5-7 years. During that time, you may need periodic denture relines to accommodate changes in the contours of your mouth. Regular denture relines involve resurfacing the base to ensure that your dentures fit and function perfectly. If you break your dentures, it's critical to bring them to your dentist for professional denture repair. Home denture repair kits can cause more damage and be even more costly to fix.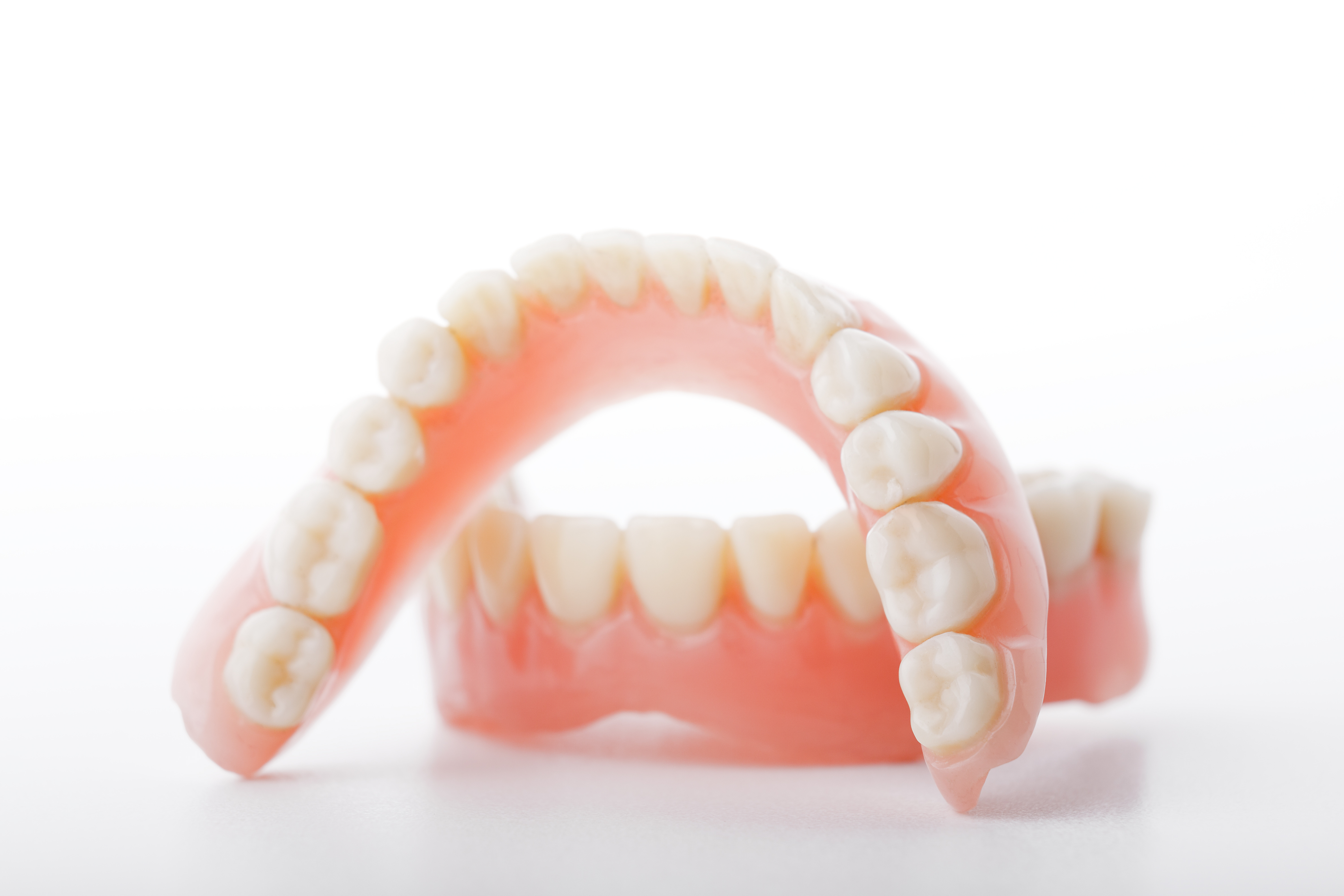 Sedation Dentistry
Ever wish you could sail through dental visits without anxiety or fear? Would you rather endure an agonizing toothache than go to the dentist? Answering "yes" to these questions could mean that you're a perfect candidate for sedation dentistry. With sedation dentistry, you can forget about fear and focus on pure relaxation.
There are different levels of sedation to accommodate every patient. Minimal sedation involves inhaling nitrous oxide ("laughing gas"). Nitrous oxide helps you relax and wears off quickly. IV deep sedation is typically administered intravenously and works very quickly. With IV deep sedation, most patients fall asleep but can be easily awakened. Total sedation could be the only solution for people with an intense fear or phobia of dentistry. With total sedation, or general anesthesia, you are completely unconscious and cannot be easily awakened.